BLISTER PACK SMALL 2SLOTS 220'S
blister-pack-small-2slots-220sBP-2-220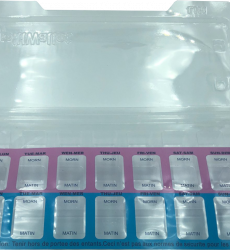 BLISTER PACK SMALL 2SLOTS 220'S
BP-2-220
Pack of 220
Overview
Pill Wallet is ideal for anyone who struggles with medication compliance. The Pill Wallet promotes independent living by eliminating the guesswork in medication delivery.
Pill Wallet is one of the most cost effective blister pack options for pharmacists in the industry.
It is sold by the box. Each contains 220 pieces.
Popular Products